Lightbrite: Coffee Business as Mission
ENLACE's partnership with Lightbrite always has been much more than good business. This is because Lightbrite is not just any coffee company. Lightbrite is a business that partners with us in a missional journey that mirrors ENLACE's vision of the importance of right and just relationships and God's love for the world.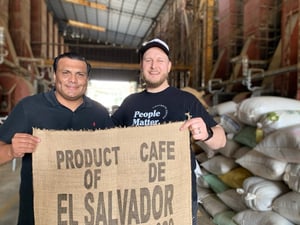 Sign up at enlacecoffee.com to start your monthly subscription to Lightbrite-roasted specialty ENLACE coffee and receive ENLACE's special edition Easter/Spring card sets created by artist, Jenny McGee.
Meet the Owners
Matt and Megan McNeece are the owners of Lightbrite. They live in Des Moines and operate their new coffee shop in Grimes, a growing area just south of Des Moines. Matt and Megan are well-known faces in the Des Moines area but not just because they are local business owners. For many years, Matt and Megan attended Lutheran Church of Hope, the largest church serving Des Moines, where Matt served as the worship pastor. Matt's passion for missions led him to eventually become the Director of Missions at the church. Matt was instrumental in establishing the now thriving partnership between ENLACE and Lutheran Church Hope.
As a pastor, Matt led many trips all over the world helping organizations and churches to serve their neighbors and express the message of God's love. It was when he was on a mission trip that Matt had a very unique experience. 

"I had my first light roasted Ethiopian coffee on a missions trip with my musician friends in Kenya… it blew my mind- I had no idea coffee could taste like that," exclaims Matt. 
Matt's joy of coffee eventually turned into a business idea that was as much about the "miracle in a cup" as it was about treating people at every stage in the process with respect, love, and appreciation. 
"From the coffee shrub to the coffee in your cup, a long series of connections play out," says Matt. "People from across the world then others in your community work together, each pouring passion into their part, all to create a coffee drinking experience that delights the consumer. Lightbrite Coffee exists to illuminate these beautiful connections between coffee and people." 
Get your Spring gift when you sign up for the Coffee Club in March! 
Sign up at enlacecoffee.com to start your monthly subscription to Lightbrite-roasted specialty ENLACE coffee and receive ENLACE's special edition Easter and Spring card sets created by artist, Jenny McGee.
Lightbrite Shop Opening & Lockdown
Both Matt and Megan knew that ministry wouldn't stop once they became small business owners and in fact, some ministry opportunities have grown. Their partnership with us is a great example! But as they began the transition from church pastors who loved tasting and roasting coffee to small business owners who relied on coffee for their entire income, the timing couldn't have seemed worse. 
Matt and Megan opened Lightbrite Coffee in the same week as the initial COVID lockdowns began in 2020! We are so glad to report that their business has not only remained afloat but has proved quite successful. No doubt this is due to all the love that goes into everything the couple offers in their shop as well as their attention to each person who walks through their doors. 

Specialty Coffee and Seasonal Treats
Matt brews up seasonal offerings (the seasonal Honey Spice Oat Latte became the author's new fav treat!) as well as the tried-and-true espressos, cappuccinos, and lattes. 
Megan, who is newer to specialty coffee, loves that coffee doesn't need to be pretentious. By using delicious ingredients and experimenting with tea, there's something at Lightbrite for everyone.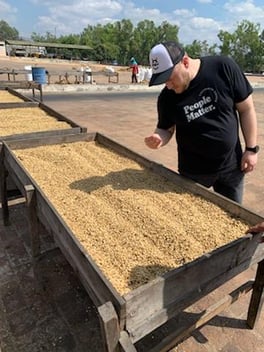 A Personal Message from the McNeece Family
"It's an understatement to say 2020 was a crazy year. From leaving jobs we loved to chase the dream of opening our own coffee business… not to mention all the things with COVID-19, Equality, and Politics we all are living through… Yet still, we ended the year with incredible gratitude. We thank God… for a new business that is working even in the midst of so much challenge, and for the love of family that only grows as we adapt to new normals. May your 2021 be filled with renewed joy, hope, & love. Jesus came to reconcile a broken world to God, and if anything is clear this year, we could all use a lot more of that." 

With Love – Matt, Megan, Levi & Logan
ENLACE is so grateful to Matt and Megan and we look forward to many years of sweet partnership!
Monthly Subscription Phobia is a Real Thing! 
We know that signing up for something on a continuing monthly basis is a big decision. We don't underestimate the sacrifices you make when you support something in this manner. We also know that often monthly giving is scary because it's a trick that unscrupulous businesses use to capitalize on people's forgetfulness to cancel and/or to inundate them with unwanted information or engagement.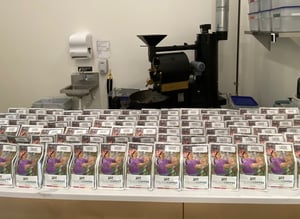 Our Commitment to You
With ENLACE's monthly giving program, whether it be as a general donation, through the coffee club, or supporting multi-year projects like chicken businesses, you are free to cancel at any time. You can also choose a donation amount that is perfectly right for you and if needed, change that amount. 
Since ENLACE began in 1993, we have always strived to demonstrate its trustworthiness both financially and operationally. Every year, as our funding has grown alongside the number of churches and communities we serve, we've been so grateful to our donors for their faith in us and in our reporting. We are so thankful to be at the top of their charitable organizations' list. This transparency will never cease.
Additionally, ENLACE provides an annual report with financial statements which are always available on our website along with blogs and impact stories. Our staff is also available should you have questions, want more information, or would like to just get to know us! 
Why Giving Monthly is Critical
Monthly donations allow us to make long-term commitments on the ground in the communities we serve. Income stability enables us to plan ahead and make the best decisions with limited resources. It also gives us a chance to partner with like-minded people who often become more than donors to projects but people who provide expertise and networks that enhance our ability to serve vulnerable communities and enable us to grow.