Monarch butterflies fly over 3,000 miles every year from North America to the south of Mexico. They migrate across borders, using air currents and environmental cues, to find the best places to live.
Migration, however, is not unique to animals. People have moved around the earth since the beginning of the human story, and the movement of people groups is an ongoing narrative in the Bible. Jesus himself has a story of migration. Mary and Joseph left their home with Jesus. They fled for their lives and were welcomed into Egypt.
Although God could have chosen any story for Jesus to have, God chose one that included migration. This month, reflect on the story of Jesus as a refugee, how it parallels the stories of many people today. What does this mean for us today as we talk about immigration in the U.S?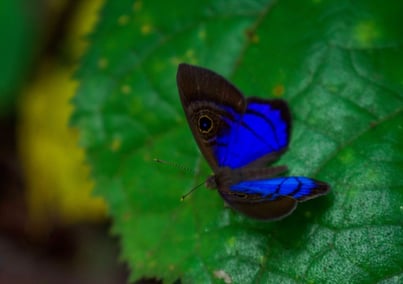 Get out a map and trace the journey of the monarch butterfly. When the butterflies return north after winter, they follow the same path as many immigrants. Imagine what sort of prayer you would pray for the well-being of Jesus' family as they fled violence in search of safe haven. How might you pray in the same way for those who journey to the U.S. today?
This reflection is one of a series called El Peregrinaje or Pilgrimage. Each blog in this series offers meditations on words in Spanish and English and include brilliant photos of daily life taken during a month-long pilgrimage across El Salvador in September 2021 by Jordan Shive and Micaela Bueno. The meditations were written by Michelle Negron Bueno and Micaela Bueno and compiled in the 2022 Enlace calendar.

From the soothing sound of pattering rain to the knitting together of communities woven together in peace and God's love, we hope you can join us in considering everyday things with a mind of worship. They hope that their words would allow you to marvel at the beauty of life while also reflecting on your own journey.


Learn more about the El Peregrinaje / The Pilgrimage Blog Series!